UgoWork's pay-for-performance business advantage in material handling
Customer expectations are persistently rising in all industries, and every organization is relentlessly focused on improving its competitive advantage. Buyers assume that product offerings will be customized and reflective of their individual needs.
That is why more and more companies that want to stay ahead of the technology curve without overextending financial resources are switching to flexible consumption models (FCMs) versus traditional product purchase contracts.
The benefits of flexible consumption models
The primary benefit is access to a comprehensive solution without incurring upfront costs or capital expenditure. More importantly, it transfers the risk of non-performance away from the customer.
Flexible consumption models place customers at the center of the value creation process. They offer continuous product availability with payment flexibility. They combine stand-alone categories of hardware, software and services to offer an integrated customer solution. It's similar to how Telco or utility companies bill based on usage by aligning payment terms to usage patterns and passing on measurable business value. FCMs are inter-connected systems, built with solid-state technology and engineered to support multiple, concurrent customer interactions. The service is the interface to the underlying capabilities that support it.
The material handling industry has been held back by product-centric business models and legacy IT systems, which aren't customer-centric. Equipment manufacturers administer limitations by selling customers physical assets upfront with a fixed warranty period. It can also come with pressure to upgrade to complicated programs, which are too feature-rich for many organizations. Product-focused vendors tend to operate sales and service delivery in a siloed or sequential fashion. Customers are moved through stages of a sales cycle with opaque handoffs between independently-operated suppliers. This approach isn't aligned with the delivery of a superior customer experience.
Guaranteed uptime through better engineering
Universally, engineers create value through solving inefficiencies by reducing the materials, energy, time and human effort to achieve an envisioned outcome, which uniformly reduces operating costs. They improve overall business success because they design processes that integrate the needs of teams and the possibilities of technology with a company's KPIs.
UgoWork's team of professional engineers are creative problem solvers committed to higher standards of functional excellence for safety, reliability and efficiency for sustainable power solutions. We've invested thousands of hours asking questions, listening to customers and industry experts, and seeking to understand the outcomes that deliver a meaningful difference to material handling fleet operations.
The UgoWork value proposition is simple. We eliminate the limitations inherent in lead-acid battery infrastructure and replace it with an evolutionary advancement in Lithium-ion power solutions. We share a commitment to the idea that fleet and operations managers would rather focus on moving products than worry about battery systems. It's our opportunity to deliver on the promise of one battery per truck and support our customers with guaranteed uptime.
At UgoWork, our superior power solution is distinguished by choice in lithium-ion technology, an advanced proprietary battery management system (BMS) and our unique charging infrastructure. Unlike competitors who select to develop lithium technology, outsource the fabrication of their BMS and utilize external chargers, UgoWork designs and manufactures differently. Our lithium technology is sourced from the largest global manufacturer of electric-vehicle-grade cells for Tesla, Volkswagen, Hyundai and General Motors, which is LG Chem. According to Electronic Design Today, Nickel Manganese Cobalt (NMC) cells demonstrate the best performance characteristics of all lithium chemistries.
UgoWork lithium-ion batteries (LIBs) are constructed with embedded chargers and universal charging capacity for all battery sizes and models. The truck brings its charger with it everywhere in the warehouse and can receive energy replenishment from any charging station, regardless of equipment voltage. Batteries are charged with a common automotive connector, a UgoWork trademark. This eliminates the risk of bad connections and always ensures a fast, safe charge regardless of the user's experience level or battery knowledge. An integrated temperature management system provides undiminished performance in demanding environments like cold storage.
See the UgoWork battery from up close on Sketchfab!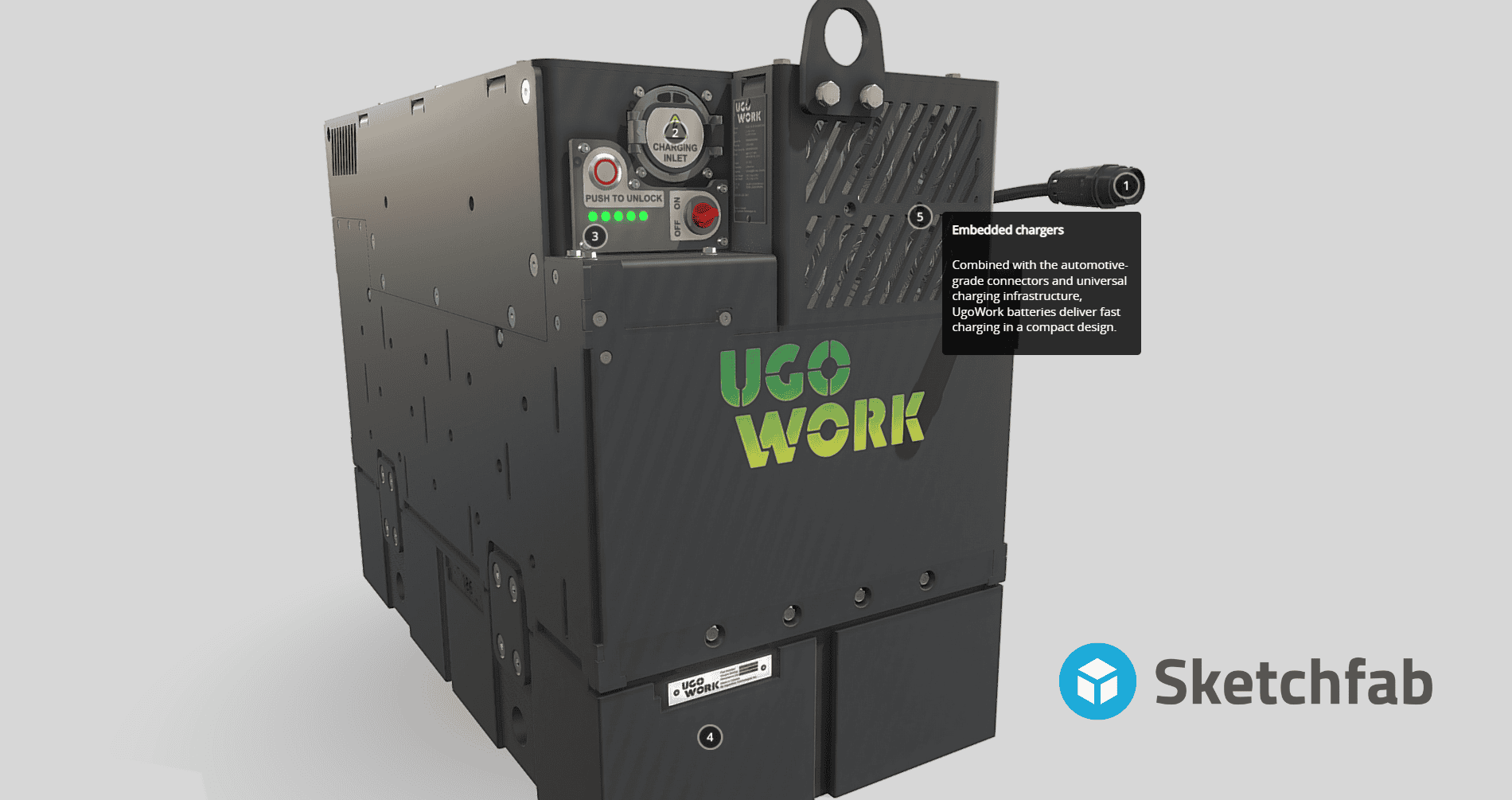 An engineering marvel wouldn't be complete without a proprietary operating system. At UgoWork, we believe in a software-first approach to solving battery performance issues. A well-designed BMS monitors the battery environment to proactively optimize the performance of lithium-ion cells. It supervises battery states to optimize performance, maximize uptimes and ensure safe operation for industrial operating environments. Many battery fabricators utilize third-party BMS vendors. Components are produced generically to be adaptable to any application or production requirement possible. It's a shortcut to accelerate the launch and commercialization of battery products. However, it compromises performance levels, quality control and possibilities for advancement. Companies that possess knowledge in material handling applications and own the design of its BMS such as UgoWork are able to ensure the solution is open to developments in the technology. It leads to an optimal solution that can be improved with minimum turnaround time while eliminating intermediates when dealing with UL certification and OEM compatibility aspects.
Fleet optimization through real-time battery monitoring
A service provider's ongoing revenue is dependent on consistently reliable system performance. UgoWork leverages the data captured by our LIBs in real time. We take a proactive approach by remotely monitoring to diagnose and troubleshoot potential problems before they have the opportunity to become costly issues. Capturing insights available through material handling equipment performance data empowers the organization to increase productivity, reduce costs, save time and improve its bottom line. Real-time data is transmitted from each vehicle to our cloud-based infrastructure, where the information is automatically collected and analyzed. Our streamlined service-delivery process provides an open channel for feedback and a mechanism for continuous improvement.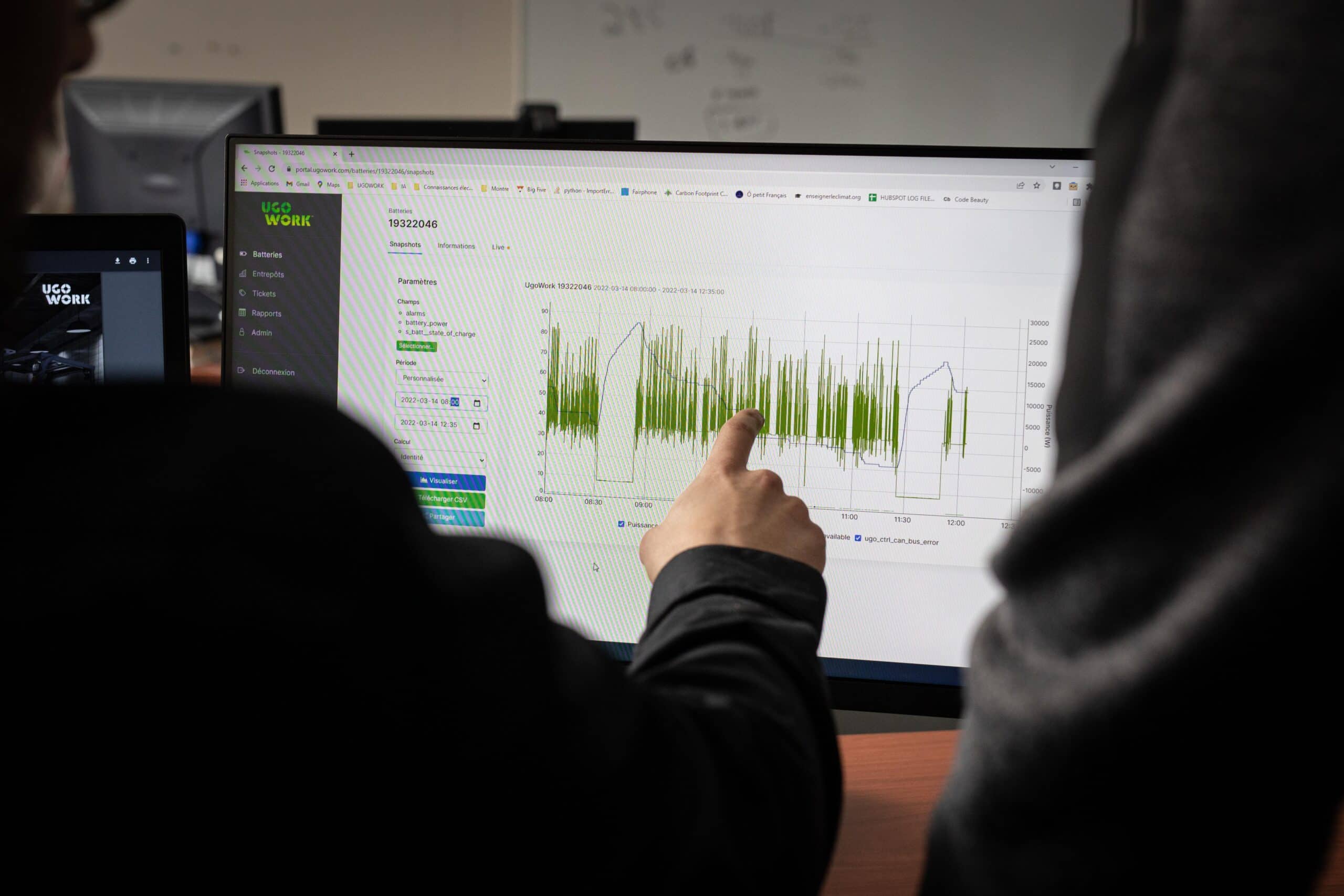 UgoWork partners you with a dedicated service supervisor who acts as a responsive, single point of contact for your customer experience. Your Customer Success Manager is accountable for overall performance of our Energy as a Service (EaaS) solution, ensuring adherence to service-level agreements and managing dependencies with third-party resources or service providers. In consultation with clients, this trusted advisor customizes a service-delivery strategy supported by notifications and monthly reports delivered electronically to fleet or operations managers.
With the emergence of UgoWork EaaS, businesses can reasonably attain a higher level of sustainable, operational efficiency. Recording data over time builds an appreciable asset, which helps fleet and operations managers to understand fleet performance across key data points. Through a process of benchmarking, every vehicle's activity is evaluated for optimal performance. We compare how the fleet, in part or as a whole, is performing with respect to industry standards and other segments of the fleet. This knowledge leads to further achieved savings because fewer new assets are required in subsequent years.
In times of financial uncertainty, when companies are reluctant to spend CAPEX, reduce cash flow or take on debt, UgoWork's Energy as a Service is a welcome opportunity to shift to an operating expense model where all firmware and software upgrades are included with the service. UgoWork's EaaS can also be used for direct retrofits for current forklifts. Because of this convenience, battery upgrades are accessible to all equipment, and older models can benefit from an improved power solution.
Interested in learning more about how a pay-for-performance model can benefit your material handling team? Contact UgoWork today!