Lithium-ion battery technology for electric forklifts
Reliable energy in all working environments and at all times is now possible
UgoWork is a revolutionary advancement in Lithium-ion power solutions. Inspired by the latest automotive standards, UgoWork's innovative design features embedded chargers and an automotive-grade charging connector that guarantee performance that lasts.
Combined with our cloud-based approach to fleet optimization, unique charging infrastructure, energy expertise, continuous service–supported by a flexible consumption model, our solutions guarantee peace of mind and uptime.
Reliable battery technology for lithium-ion forklift batteries
Consistent power throughput and optimal performance in the most demanding applications
UgoWork batteries are designed to outlive the trucks they power. The universal core features a refuelable lithium pack that ensures stable energy and optimal performance for the most demanding applications.
The UgoWork solution is composed of a universal battery core that is coupled with an interchangeable counterweight. Its unique design ensures that the solution meets all forklift weight and size requirements, providing operational flexibility. It also opens the door to battery swaps as the truck fleet evolves.
Our solutions are designed to operate in the harshest shop floor conditions. Thanks to embedded chargers, automotive-grade charging guns, and optimized energy path from grid-to-truck, 87% of the power is transferred to the forklift to perform its duty. This translates into lower electricity bills and a reduced carbon footprint.
Considering overall product lifetime, lithium replacement and recycling capacity, a battery chemistry that delivers high recycling value, and a grid-to-truck efficiency, the UgoWork solution represents to the best possible combination in terms of sustainability.
Universal charging infrastructure for lithium-ion forklift batteries
Let your fleet operators charge anywhere, safely.
Maximize your fleet uptime with UgoWork universal charging infrastructure. The onboard charger, which is built in the battery, ensures that a single charging station can power all UgoWork batteries; 24V, 36V, and 48V models.
Robust, cost-efficient, and compact, the UgoWork charging stations are designed to get the high-speed charge you need to reduce your fleet downtime and maximize productivity, all while using the least amount of footprint on the shop floor. Its robust and compact design ensures seamless integration on your factory floor and the flexibility to evolve with your plant.
Our engineers bring EV ultra-fast charging technology to your forklift fleet with the embedded battery chargers, so you get more out of your battery at every work shift. Its ergonomic charging stations and automotive-grade connectors contribute to UgoWork's highly-effective grid-to-truck energy path, ensuring operator safety, and drastically reduces premature connector wear.
Imagine if charging sessions could occur anywhere in the warehouse. What if they could be simple and seamless, regardless of the user's experience level or battery knowledge. See how simple and flexible operating a UgoWork really is.
Your batteries should outlive the trucks they power
Learn more about energy management and our flexible energy consumption approach
Cloud data platform for lithium-ion forklift battery energy management
Minimize risks, optimize truck allocation, and improve work patterns with real-time data
When it comes to your truck fleet, don't stay in the dark. UgoWork batteries are connected and communicate fleet data in real time with the cloud.
Our proprietary battery management system is the command-and-control centre of the UgoWork Li-Ion battery. It monitors the LIB's state of health to optimize performance, maximizes uptime and ensures safe operation for industrial environmental conditions. Combined with our cloud-based architecture, it provides an open channel for feedback and a continuous improvement mechanism.
UgoWork batteries provide operational data that deliver smart insight by our energy experts, such as operational reporting and trend analysis, energy consumption assessment.
Additionally, UgoWork's Energy as a Service plan is a pay-per-use program based on your fleet's energy consumption. Adaptive billing means no initial investment, so you can keep your money for core projects and grow your business.
Smart thermal management system for lithium-ion forklift batteries
A high-performance battery in any environmental conditions
Whether they are used to power portable electronic devices, medical equipment, or electric vehicles, lithium-ion batteries' performance and lifetime can be impacted significantly due to temperature variations. Without an active thermal management system to regulate the battery cells' temperature, extreme heat or cold temperatures can prevent a battery from delivering its full power and even lead to premature wear, thereby decreasing battery life.
As ideal operating conditions are rare occurrences in the material handling work environments, UgoWork's lithium-ion batteries feature an integrated thermal management system to maintain the battery within the ideal operating temperature range. UgoWork's proprietary battery management system ensures optimal system operation in high and low temperatures for increased power reliability and equipment longevity.
We are monitoring your operations, so you can focus on what really matters
We believe operations and fleet managers would rather move stock than worry about their energy solutions. UgoWork is the energy partner you've been waiting for.
Universal charging infrastructure
Take the next step in your energy transition
Talk to our energy experts about an assessment of your fleet
Gain peace of mind with UgoWork
Forget about scheduling maintenance. We've got your back!
Plan, optimize, and measure your energy transition with confidence.
24V for Class II & III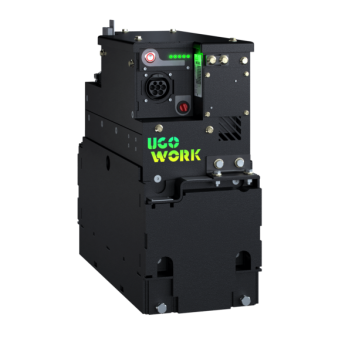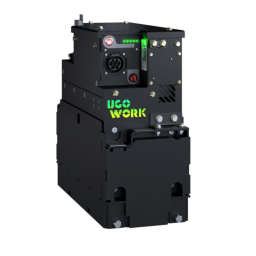 36V for Class I & II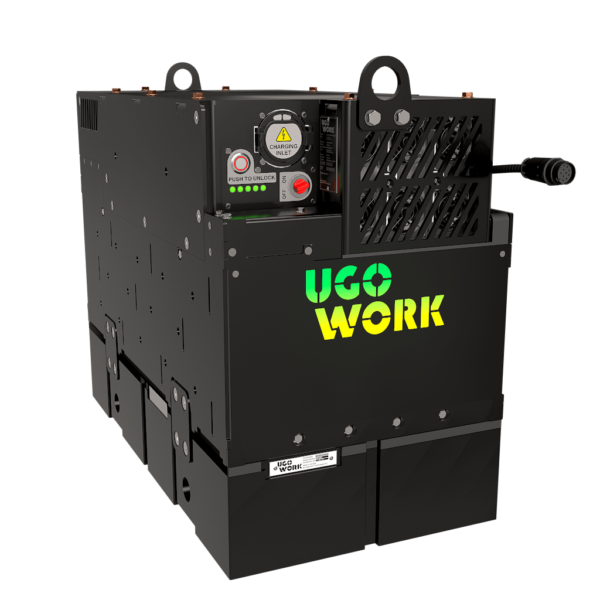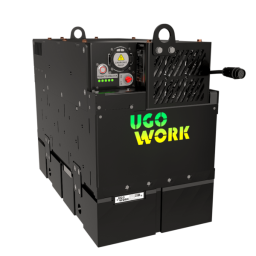 48V for Class I & II