Data analytics and customer success management: The keys to improving your operations
With stiff global competition and unprecedented supply chain problems, material handling teams are facing more pressure than ever before to keep both performance levels—and costs—in check.
However, in a field still very much marked by legacy technologies and workflows, there are many challenges that keep material handling managers up at night, including:
Employee productivity and throughput
Equipment maintenance, fuel and upgrade costs
Labor shortages and high turnover rates
Safety concerns and associated expenditures
And much more.
Many material handling teams are rethinking their workflows and investing in more modern equipment, such as electric forklifts powered by lithium-ion batteries, in order to mitigate their operational and financial hurdles.
Yet this is only part of the equation—and solution to material handling challenges. When acquiring new technology, it is important to truly understand the difference between procurement from a supplier and procurement from a business partner.
A supplier, as the name suggests, does just that: supply equipment through a standardized transaction. Once the transaction ends, so does the business relationship. On the flip side, a partner will foster a long-term business relationship and offer services and expertise to ensure the material handling team makes the most out of the newly acquired equipment.
Let's take a look at how UgoWork goes the extra mile to help material handling teams leverage the performance of their lithium-ion batteries for forklifts and Energy as a Service (EaaS) solutions to achieve operational goals.
UgoWork Customer Success Managers: Energy experts that crunch the numbers and offer guidance
What sets UgoWork apart from other vendors is precisely the concept of being a partner, rather than a supplier, for customers. Their Energy as a Service (EaaS) and forklift batteries are backed by a robust Customer Success team made up of energy experts.
What sets UgoWork apart from other vendors is precisely the concept of being a partner, rather than a supplier, for customers. Their Energy as a Service (EaaS) and forklift batteries are backed by a robust Customer Success team made up of energy experts.
Each customer is assigned a dedicated Customer Success Manager (CSM), who becomes the single point of contact for whoever needs to work with UgoWork's solutions, whether it's the material handling manager, floor supervisors or forklift operators.
The CSM works closely with team members on several fronts, from the initial technological transition, training and post-sales support to digging deep into the customer's analytics portal to make sense of the performance data. The CSM's proactive monitoring of the customer's forklift fleet and deep dive into the data allows them to gain insights to boost operational efficiency and lower costs. And these recommendations prove to be invaluable for the customer's bottom line.
The CSM plays an integral part throughout the partnerships with each UgoWork customer. Here's how.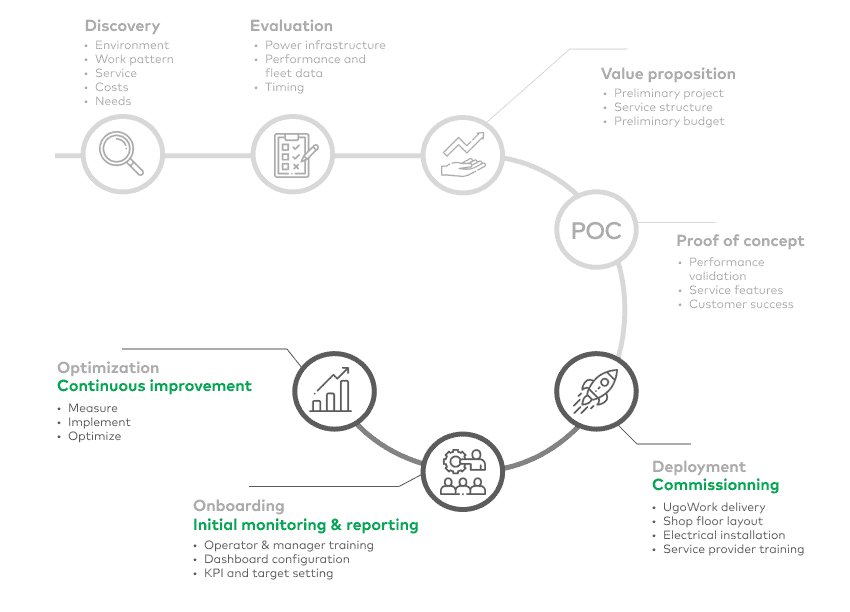 Phase 1: Commissioning
As soon as the customer is ready to install charging stations and begin using the new lithium-ion batteries, a team is dispatched on site. This is referred to as the commissioning phase. In this phase the CSM trains the customer's team of operators, supervisors and managers. The commissioning period is also the moment for the CSM to understand the operation pattern, set improvement targets with the customer and customize a dashboard that will be used to track progress.
In most cases, the implementation of lithium-ion is done in a progressive manner; a distribution center with hundreds of forklifts running will not introduce new batteries in all trucks at once. The CSM takes advantage of his time on site to ensure that everything is up and running based on the customer's unique shop floor configuration and material handling processes. He also maps the whole operation so that he can provide recommendations for the next steps of the implementation. The installation of charging stations based on warehouse operation patterns is key to limit travel time and optimize energy usage. Warehouse managers want their reach trucks to lift, not travel. They also want to avoid idle time and the first step in achieving that is by optimizing the charging infrastructure.
Comprehensive support at this initial phase gives the users and stakeholders the confidence that their forklifts and charging infrastructure are operating optimally. If you have questions about setting up the most efficient charging station layout for your facility, contact a UgoWork energy expert today.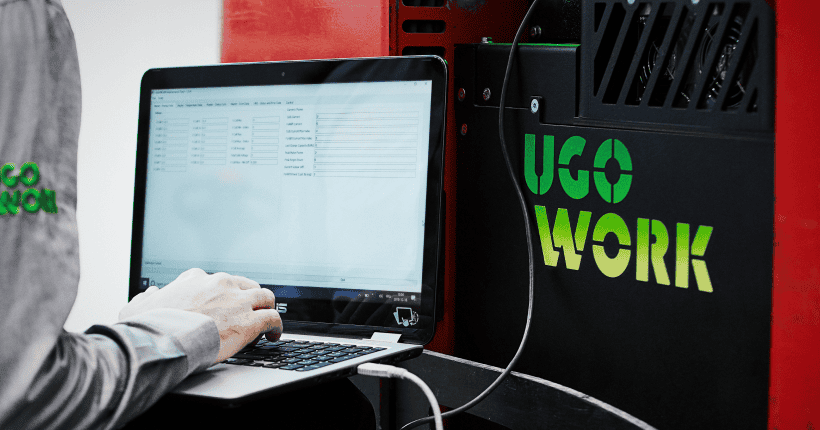 Phase 2: Initial monitoring and reporting
As operators begin to drive and charge their forklift batteries, the CSM starts to monitor incoming data to assess performance levels and operation patterns. Each month or at a frequency level determined by the customer, the CSM gives updates through a customized report, formatted for various stakeholders. The report provides a wealth of information, that enables customers to gain maximum visibility into:
Operator's diligence in opportunity charging
Analysis of missed loads
Overall fleet uptime vs capacity
Distribution of workload across trucks and fleet size optimization
State of charge analysis
The CSM then provides recommendations to improve usage as well as operator efficiency and safety.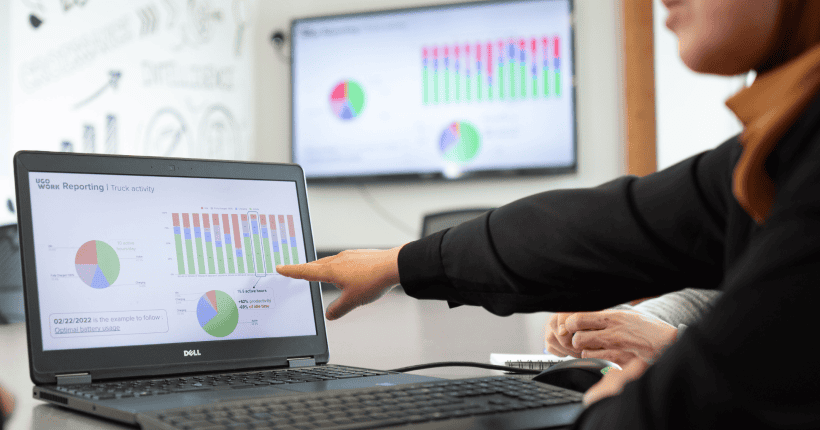 Phase 3: 24/7 technical support
UgoWork offers local support through their network of certified technicians. These technicians receive ongoing training and 24/7 support directly from UgoWork. What's more, they are also in constant contact with the customer's CSM.
First, local support—in local time zones and even in local languages—means customers get quick access to on-site help they need when they need it.
Second, UgoWork wants to maintain affordable solutions for customers, rather than invest in the infrastructure required for global operations and support. It's a win-win situation: customers benefit from local coverage without the hefty price tag.
UgoWork's team also offers proactive expertise. Because the batteries have sensors, as connected objects, they send data to the cloud. UgoWork's platform compiles and monitors the data to automatically and in real time detect any potential anomalies. UgoWork's experts can provide accurate diagnostics and instructions to teams in the field. This approach means interventions are short and resolved on the first try, which inevitably reduces downtimes for customers.
A concrete example of UgoWork's proactive maintenance occurred with major 3PL in North America. The company had a 36V unit that was operating in a freezer. An anomaly was detected with a component involved in the charging protocol; the battery could not charge at full power. The operator didn't notice anything because there was still enough energy to operate the forklift. Nevertheless, UgoWork's data monitoring system flagged the issue, and an automatic notification was sent to the service team, which in turn proactively set an appointment for an on-site technician to correct the situation. This was done without the company experiencing any downtime. The figure below presents a snapshot of the battery unit which experienced a change in charging power, triggering an alarm to the UgoWork service team.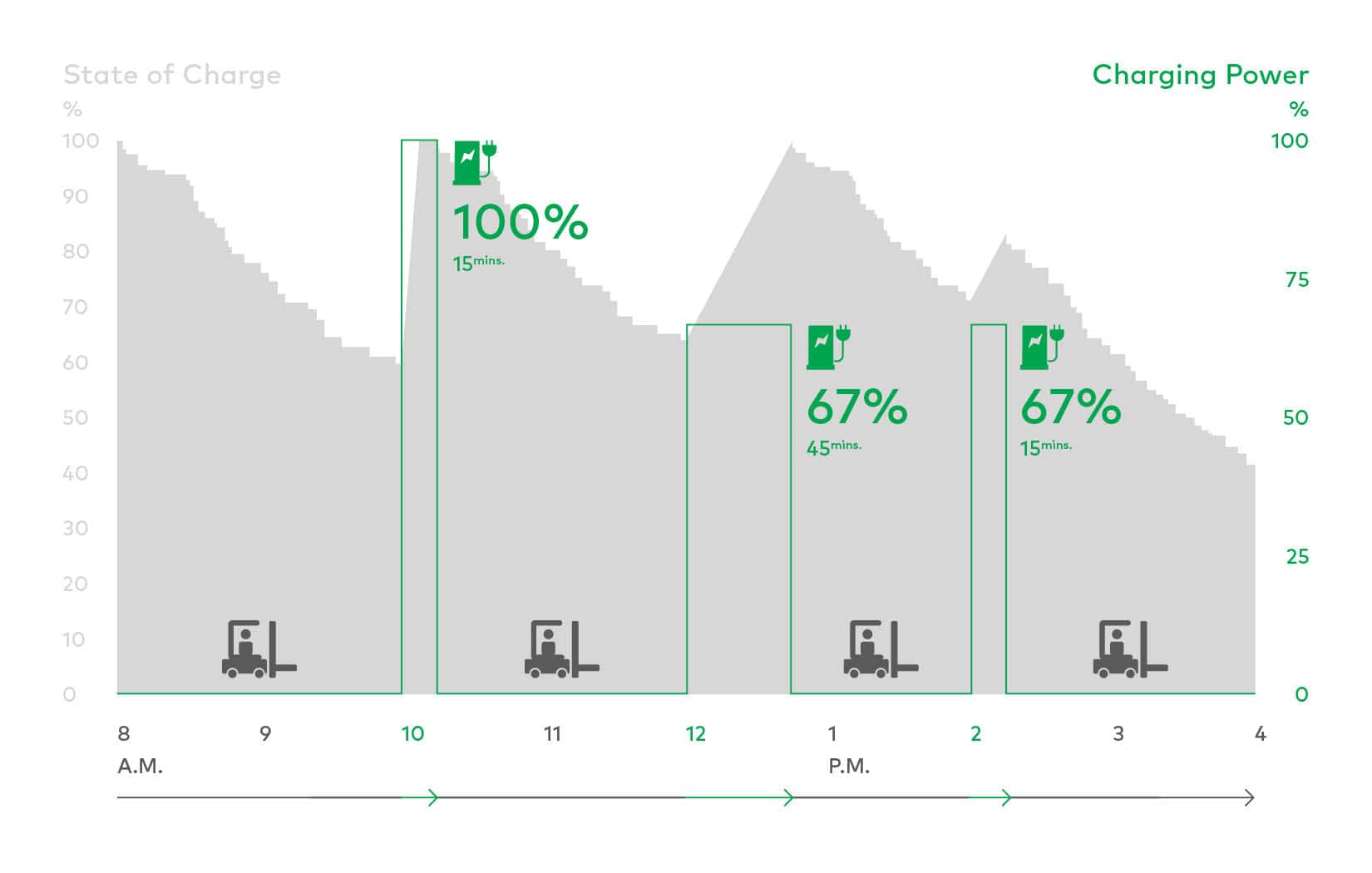 Phase 4: Continuous improvement
Akin to a consulting engineering approach, the CSM learns the ins and outs of each customer over time, developing their knowledge of the business and operations. As the customer develops long-term strategies for the future, such as reducing its carbon footprint, preventing increases in the costs associated with work health and safety, improving resiliency, eliminating unnecessary maintenance, the CSM acts as an extension of the business, providing advice and a concrete action plan on how to leverage UgoWork's solutions and their use to meet future goals.
There are many parts to the material handling moving puzzle. Today's material handling teams must harness the expertise and proactivity of true technology partners, like UgoWork to take their performance levels to a whole new level.
An example of a customer operating a cold storage warehouse illustrates how optimization can be achieved. With the increased capacity of lithium-ion, combined with a series of incremental changes, resulted in one company being able to reduce its fleet. Performance reports showed that, out of active forklifts in the freezer, 17% were underused, and therefore potentially less profitable for the company. The customer success manager in question recommended reassigning them to another sector that was struggling with its existing fleet's operations.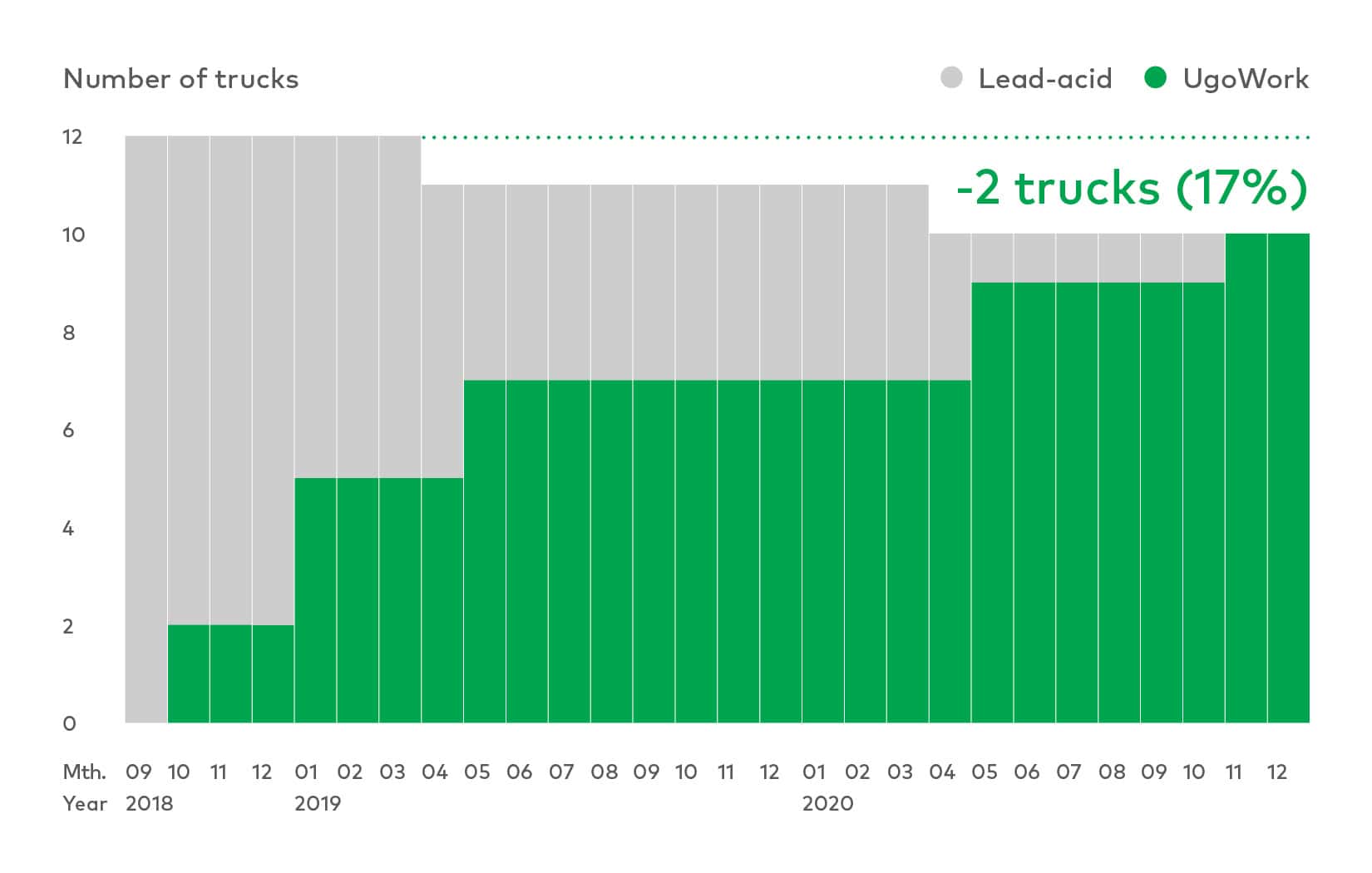 Figure 2 – Total conversion from lead-acid to UgoWork lithium-ion batteries with a 17% reduction of the number of trucks.
Interested in learning more about UgoWork's CSM approach? Contact us today!