Are you Ready for Forklift Energy as a Service?
Here comes power guaranteed.
Today's operating environments are a continual reminder that a complex supply chain in an uncertain world can be a challenging place to work. And the current level of uncertainty appears to be stable for the foreseeable future. Needless to say, our need to quickly adapt to changing markets and economic conditions is compelling supply chain contributors to develop strategies that increase sustainability and resiliency while still proactively managing costs.
Savvy material-handling fleet professionals looking to simplify their operational processes are turning to the inherent advantages of Lithium-Ion batteries, which eliminate the limitations of lead acid battery infrastructure and replace it with a safer, more efficient and cleaner energy. The advanced performance benefits of LIB Technology offer a superior return on power investment with up to 41% electricity bill reduction, negligible maintenance and substantially lower replacement costs.
Up until now, they came with major barriers to adoption, including hefty upfront price and financial risks associated with transitioning to new battery technology. UgoWork has overcome this risk-intense capital expenditure and replaced it with a performance-driven, operationally-flexible offer. UgoWork's Energy as a Service is a welcome opportunity to shift forklift power to an operating expense and reduce risk.
A better battery is just the start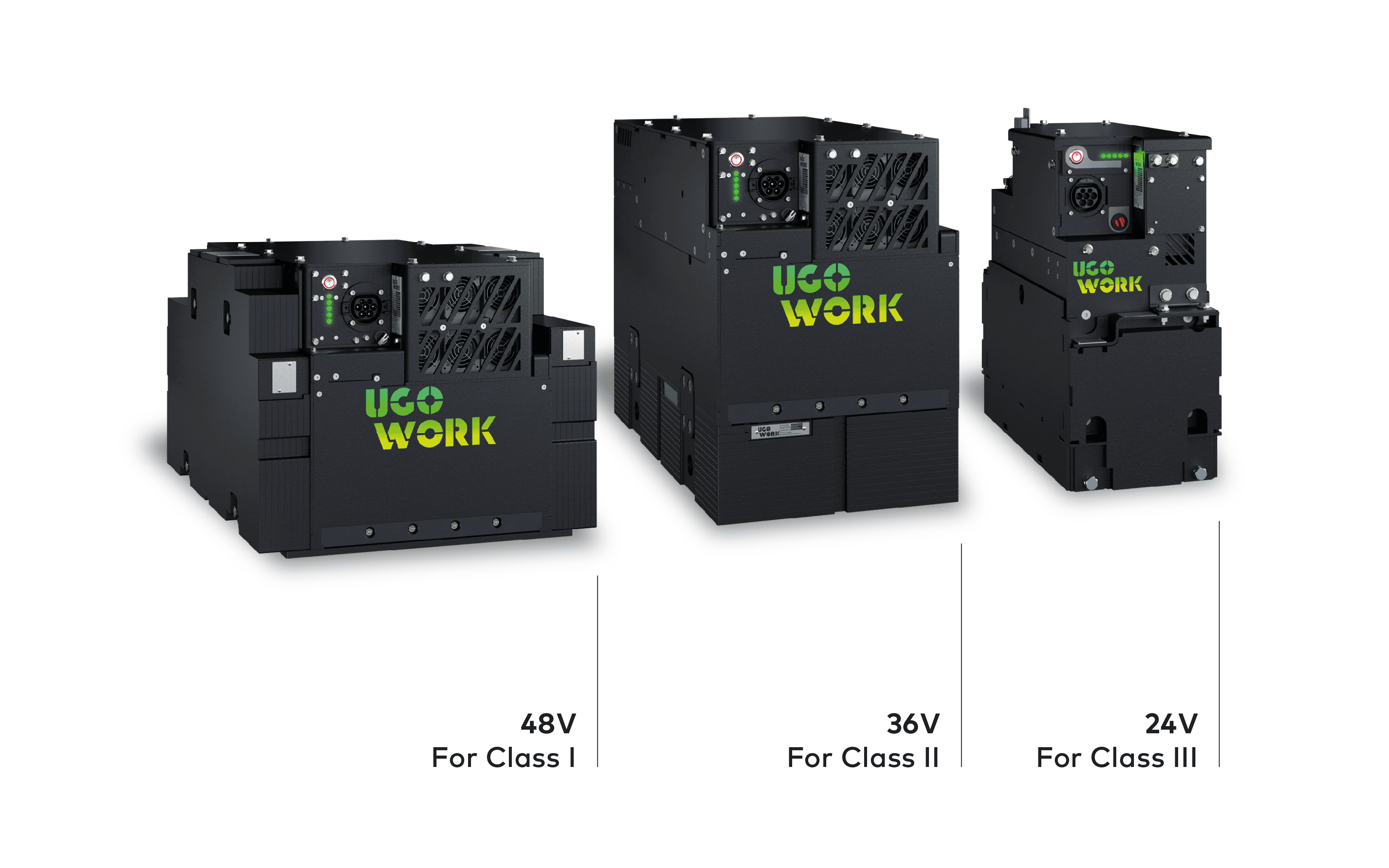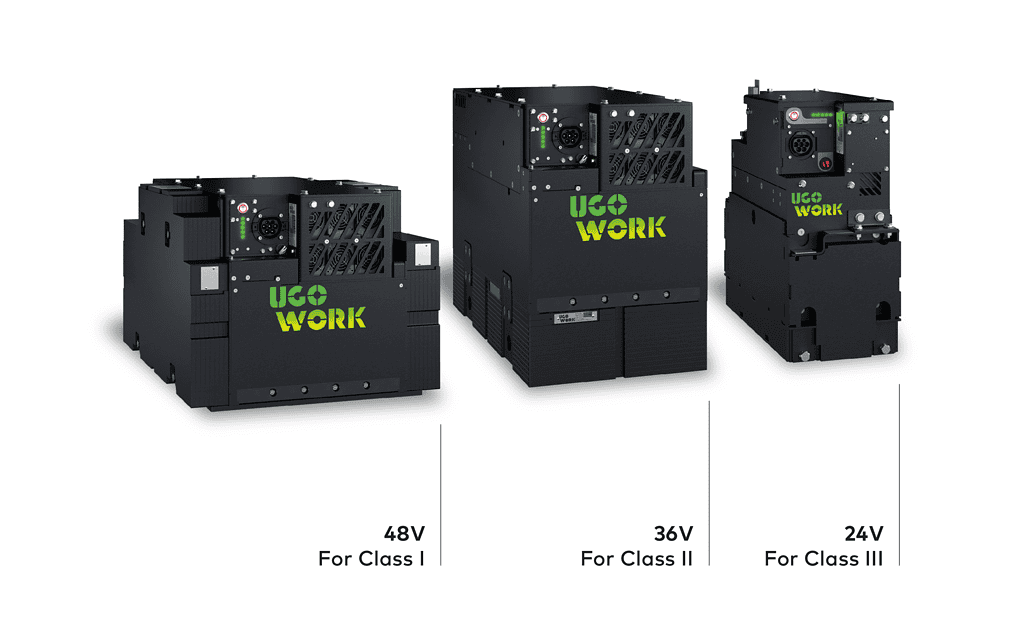 At UgoWork, proven Lithium-ion cell chemistry is the foundation of a better-rated, pay-for-performance, material-handling power solution. Our lithium cell choice is the same used by major EV manufacturers producing the Nissan Leaf, Chevy Volt and BMW i series. These Nickel-Manganese-Cobalt UL certified cells are sought for their superior performance benefits including safety, reliable charging rates and secure commercial availability.
UgoWork LIBs are constructed with embedded chargers built-in with universal charging for all battery models. The truck brings its charger with it, everywhere in the warehouse, and can receive energy replenishment from any charging station, regardless of equipment voltage. An ergonomic, automotive-grade charging gun as a key forklift safety feature eliminates the risk of bad connections and always ensures a fast, safe charge regardless of the user's experience level or battery knowledge.
We believe in a software-first approach to solving battery performance issues. Our proprietary Battery Management System monitors the battery environment and supervises the battery state to optimize performance, maximize uptime and ensure safe operation. Our cloud-based architecture is a continuous feedback channel for core battery vital statistics and informs operational efficiency recommendations.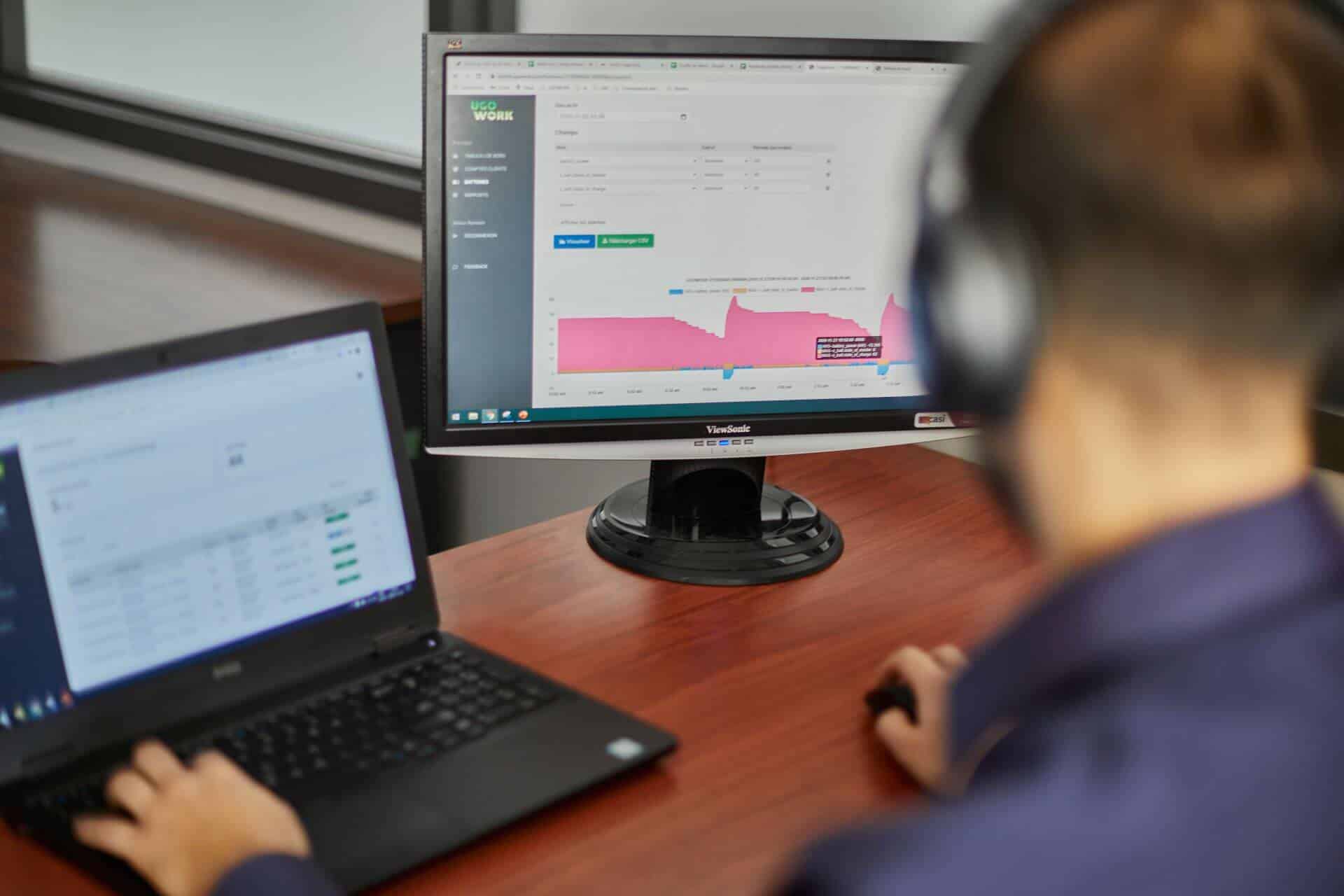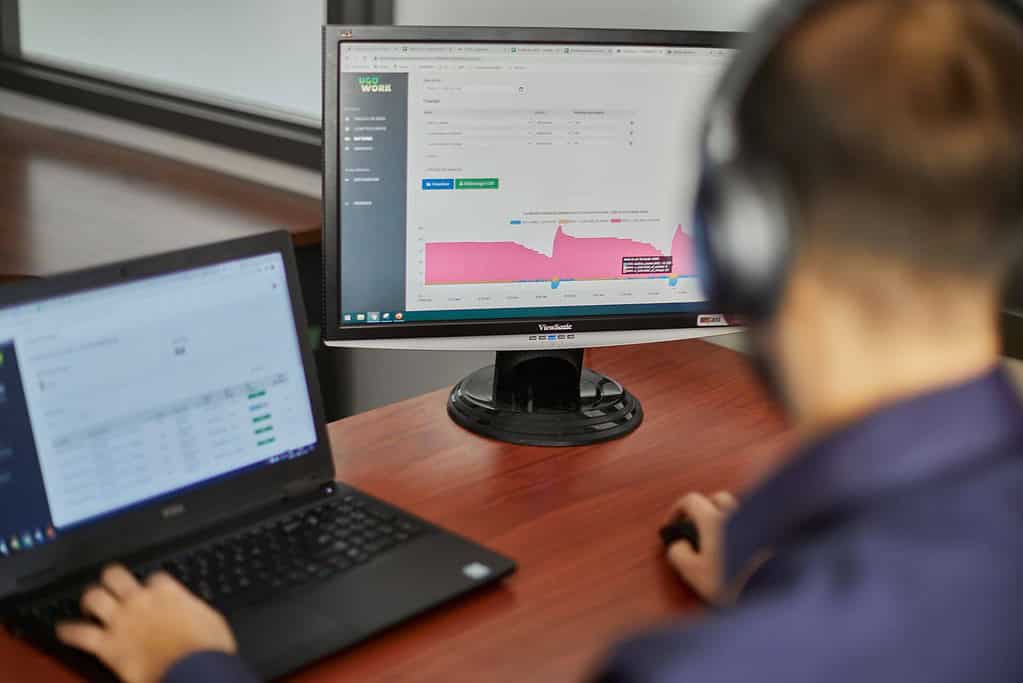 "What I love about UgoWork is that I never hear about batteries. The product performs and their team takes care of everything so I can focus on my business."

— Executive Vice-President, Major Canadian fruit and vegetable distributor
Real-time monitoring leads to operation continuity and fleet optimization
Not only as a lithium-ion forklift battery company, but also as an energy partner, UgoWork takes a proactive servicing approach through remote monitoring to diagnose and troubleshoot potential problems before they have opportunities to become issues. You are partnered with a dedicated energy expert who acts as a responsive, single point of contact for your Power Guaranteed service experience.
Real-time data is transmitted from each battery to our secure cloud-based infrastructure where it is automatically collected and analyzed. Recording insights over time, builds an appreciable asset and helps operations managers to understand fleet performance against critical success factors. Through benchmarking, every vehicle's activity is evaluated for optimal performance and compared to other segments of the fleet and industry standards.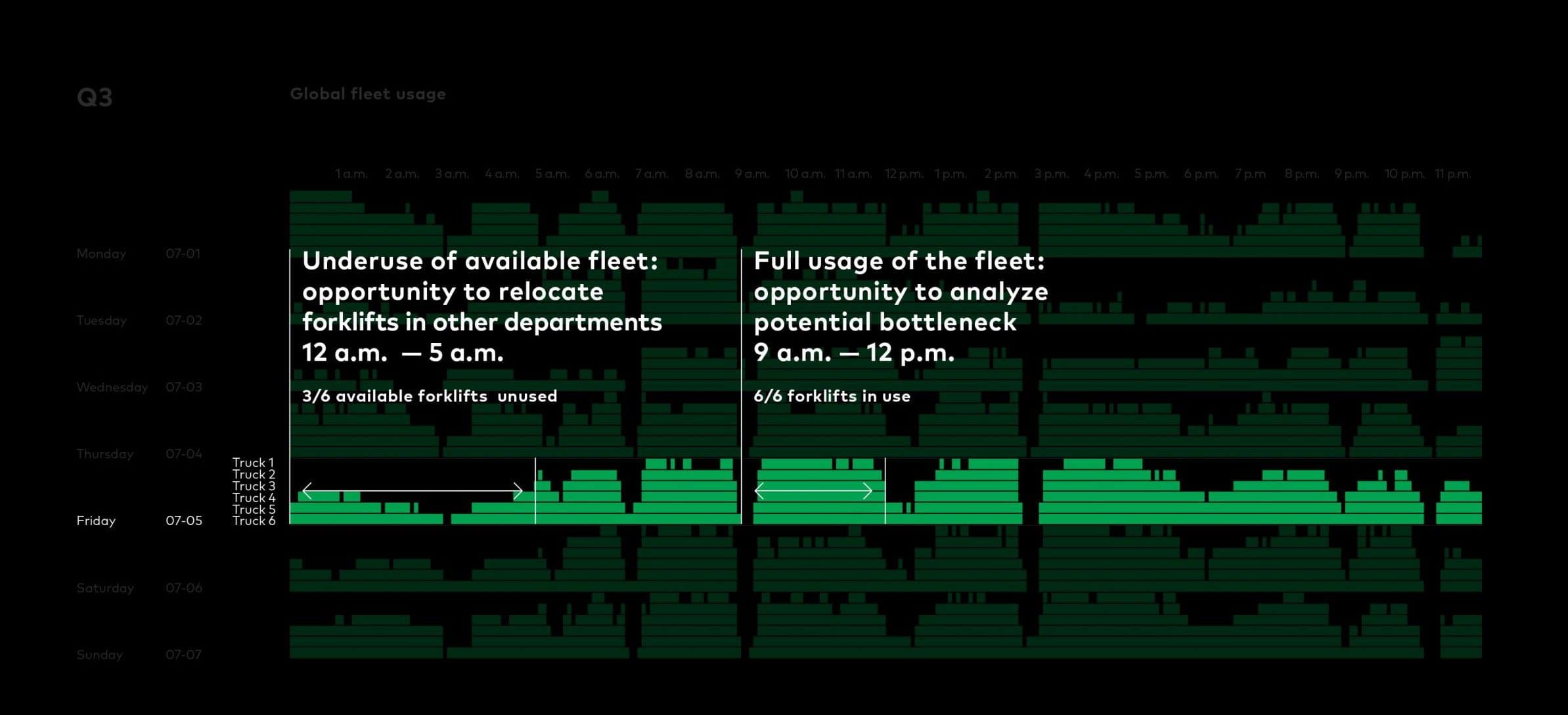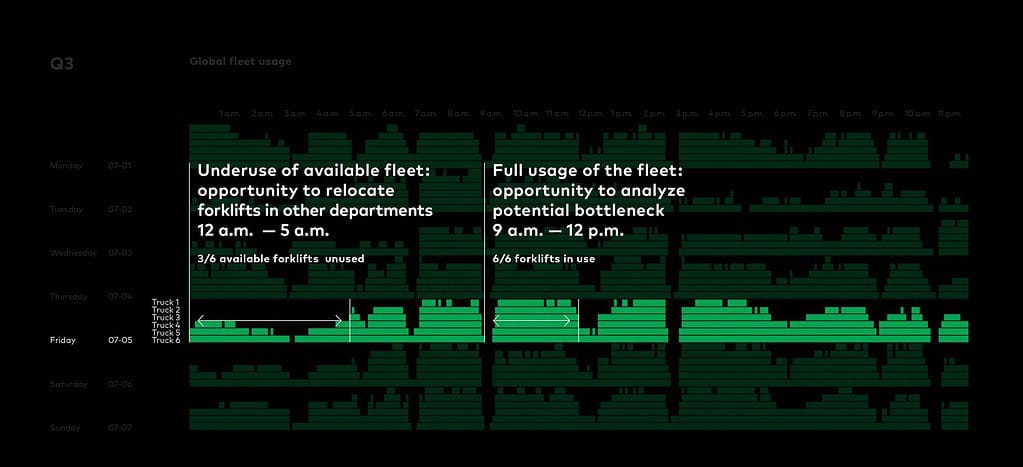 Where do we go from here?
UgoWork's energy partnership is a commitment to eliminating the limitations of traditional infrastructure. We share a dedication to a simple idea. Operation managers would rather focus on delivering their beneficial outcomes rather than managing battery systems.
If you want a better return on power investment, let us help you to build your operation-specific business case. Get in touch with our energy experts!