24V lithium-ion battery for electric forklifts
Power solution for Class II and III material handling applications
The UgoWork 24V lithium-ion battery is a reliable solution to power tuggers conveying parts or material to workstations running on 24/7 operation patterns. Continuous operation requires high energy levels and ultra-fast charging to meet the manufacturing world's most challenging conditions.
Equip your electric walkie pallet jack and order pickers with a UgoWork 24V lithium-ion battery for uninterrupted order picking. Its constant performance and extended run times make it the ideal power solution for the food and beverage industry.
Do more in less time with power that lasts, shift after shift.
Universal charging infrastructure
Cloud data energy management system
Durable battery technology
Upgrade your fleet power with UgoWork 24V lithium-ion batteries
Battery
24V for Class II & III
Safe and easy to use
Automotive-grade universal charging connector compatible with any UgoWork Charging Station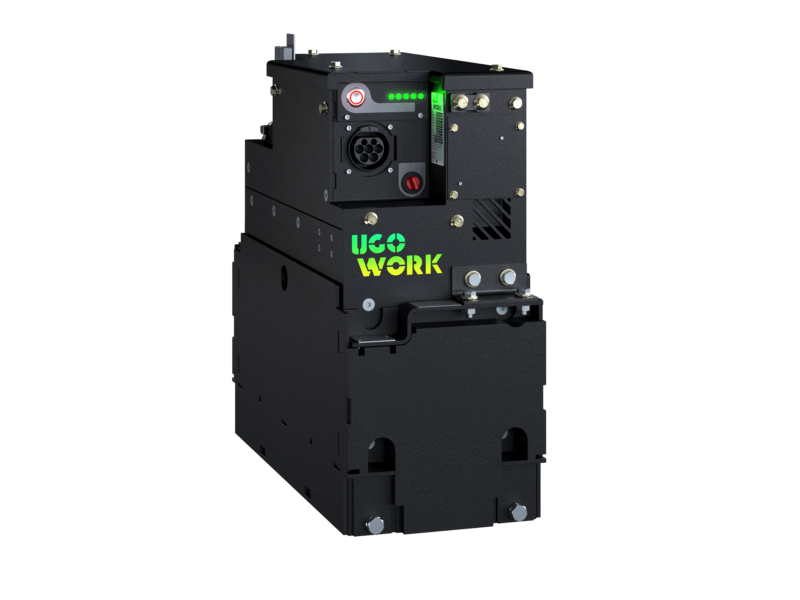 High speed and compact charging infrastructure
Embedded battery charger, automotive-grade connector and universal charging station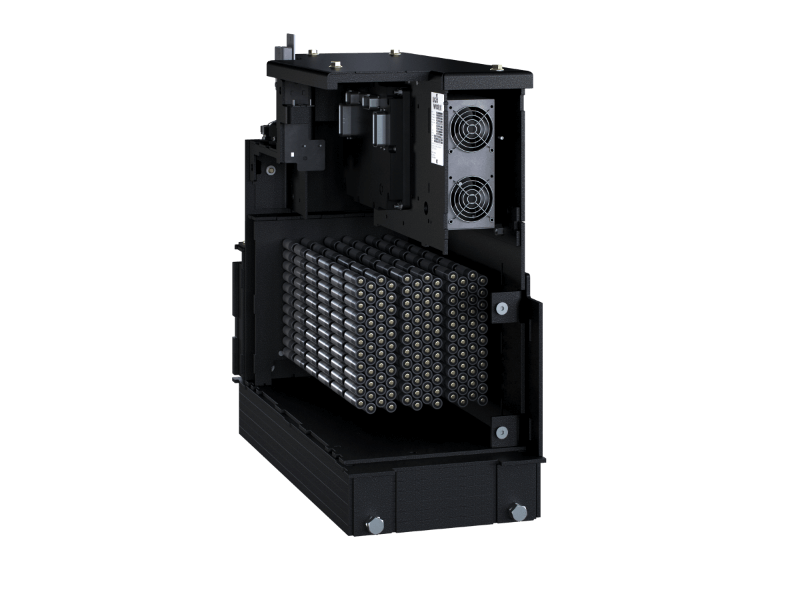 Pallet jack and walkies in warehouse or distribution centers
24V lithium-ion power solutions for order picking
For loading and unloading trailers, low-level stocking or order picking, and transport runs in food storage and distribution centers, you need power that can keep up with your operations.
Lift and move pallets around the warehouse effortlessly without worrying about battery power or maintenance. UgoWork offers a solution that delivers the very real potential of one battery per truck.
Tuggers and tow tractors in warehouse or distribution centers
24V lithium-ion power solutions for electric tuggers
UgoWork solutions are ideal for horizontal transport applications, such as carrying material and pulling carts through a warehouse, production floor, or distribution center.
Our 24V battery strikes the perfect balance between size and power. Better support your bottom line in manufacturing, food and beverage and warehouse applications with lithium-ion power solutions that offer more out of every charge.
Your forklifts are too important to stay idle
See UgoWork solution for reach and counterbalanced applications
See UgoWork solutions for high energy applications
We are monitoring your operations, so you can focus on what really matters
We believe operations and fleet managers would rather move stock than worry about their energy solutions. UgoWork is the energy partner you've been waiting for.
Universal charging infrastructure
UgoWork 24V lithium-ion battery technical specifications
Specifications of UgoWork's power solution for class II & III material handling applications
| Specifications | | Notes |
| --- | --- | --- |
| Maximum voltage at full charge | 27.4 Vdc | |
| Nominal voltage | 25.9 Vdc | |
| Discharge end voltage | 21.4 Vdc | |
| Rated Ah capacity (5-hr rate) | 269 Ah | |
| kWh capacity | 7.0 kWh | |
| Charging current (max.) | 8 A | Embedded charger, rated at 480 Vac |
| Continuous discharging current (max.) | 175 Adc | SB output connector limited |
| Weight | 220—488 kg (485—1,076 lbs) | Varies based on counterweight configuration |
| Continuous operating temperature | 0—30 °C (32—86 °F) | Continuous operation at full specifications |
| Sporadic operating temperature | 0—45 °C (32—113 °F) | For limited time or at reduced specifications |
| Charging voltage | 277Y/480 Vac | Embedded charger, nominal |
| Charging time (standard) | 1 hr | 0—85% |
| Auxiliary output current (max.) | 10 Adc | Battery voltage output for accessories |
| Communication with truck | CAN & IWS (Interrupt Warning Signal) | Compatible with OEM standards |
| Wi-Fi connection | Continuous remote monitoring for guaranteed uptime (part of the UgoWork EaaS program) | |
| Dimensions | Adaptable counterweight configuration in order to fit truck compartment | |
| Certifications | UL2580, UL1642, UN 38.3, FCC / IC | |
Technical specifications are based on standard operating conditions and may be subject to changes.
See the charging station specs.
Want to talk amp, run times, charging schedules?
Talk to our energy experts about an assessment of your fleet
Gain peace of mind with UgoWork
You won't have to open the spare parts box—we'll take care of everything.
A model for every need
36V for Class I & II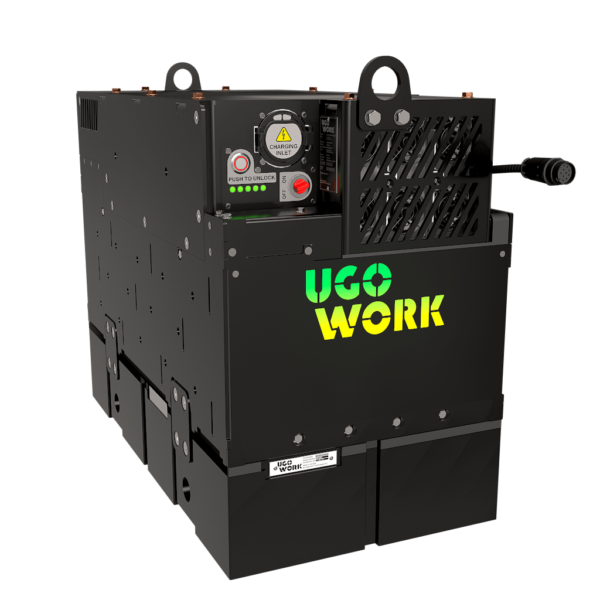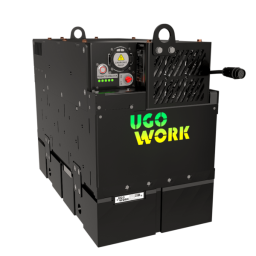 48V for Class I & II